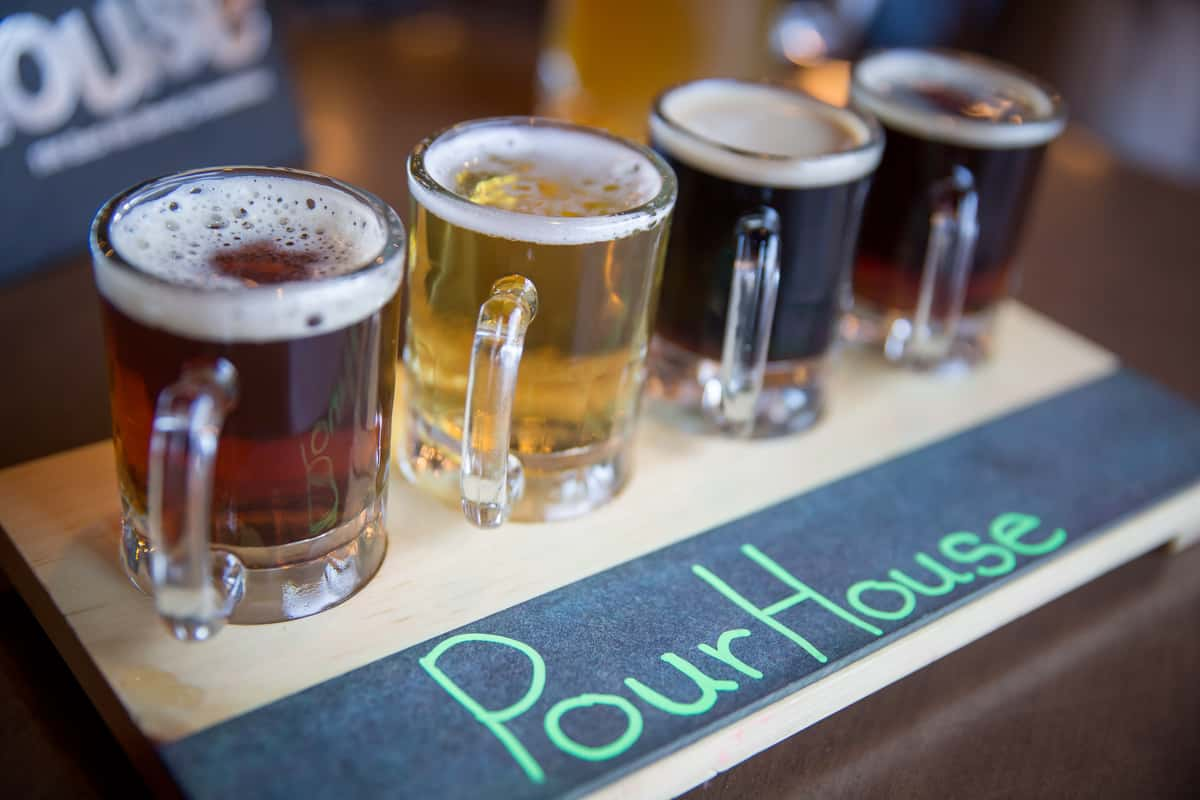 Drink Menu / Dessert Menu
Become a VIP
Be the first to receive updates on exclusive events, secret menus, special offers/discounts, loyalty rewards & more!
Beer
Choose Wisely, No Refunds
(Free sips offered to help make a better decision)
LAGER / PALE ALE / GOLDEN
PILSNER / KOLSCH / HEFEWEIZEN
AMBER / RED / ESB
Grimm Brothers Little Red Cap, ABV-6.3%, IBU 43, Loveland CO
$4.70
Once upon a time in the ancient city of Dusseldorf, monks perfected a new style of brewing that used the top-fermenting yeast of an ale and the cold conditioning of a lager. The result was a clean-tasting, full-bodied ale, known as Altbier
Denver Beer Company Pretzel Assassin, ABV-5%, Denver CO
$5.30
This classic Vienna Lager is crisp and easy drinking. Munich and caramel malts are used to create a malty flavor with a touch of breadiness and a light sweetness. German noble hops round out the flavor profile of this clean, authentic amber lager. No pretzels were harmed in the making of this beer, but we can't vouch for pretzel safety while you imbibe!
BROWN / SCOTTISH / DARK LAGER
BELGIAN
St. Bernardus Abt 12 8oz, ABV-10%, Watou Belgium
$8
St.Bernardus Abt 12 has a very fruity aroma that is the result of using our own unique yeast. It brims over with different, complex tastes and stands out through its long, bittersweet finish. Thanks to its mild, rounded taste and a perfect balance between bitter and sweet, this beer goes down very easily
SOUR
Great Divide Strawberry Rhubarb 12oz, ABV-6.2%, IBU 5, Denver CO
$6.50
This beautiful partnership creates a beer that glows ruby in the glass, bursts with strawberry aroma, and bites with every sip. Bright and effervescent, this sour is a fun and refreshing, lip-puckering treat perfect for every occasion, any time of the year
Duchesse De Bourgogne 8oz, ABV 6.2%, Belgium
$8
Duchesse de Bourgogne is the traditional top fermented reddish-brown ale from the West-Flanders region of Belgium. This refined ale also known as "The Burgundies of Belgium" is a blend of 8 and 18 months old ales following careful maturation in oak casks. 100% natural and unpasteurized
Crooked Stave Blueberry Raspberry Sour 12oz, ABV-4.5%, Denver CO
$6
Primary fermented with our mixed culture of wild yeast, Sour Rosé undergoes fermentation in large oak foeders on raspberries and blueberries. Showcasing bright effervescent characteristics, Sour Rosé is the perfect sour beer for all seasons and occasions. Unfiltered and naturally wild, we package each can with a small amount of yeast to maintain maximum freshness for wherever life's adventures take you
STOUT / PORTER
Horse and Dragon Sad Panda, ABV-6.8%, Fort Collins CO
$6
Aromas of vanilla and chocolate are prominent yet balanced with the malt sweetness and caramel aromas expected in stouts. Your first sip introduces the complex combination of flavors you might expect in your favorite coffee – the balanced sweetness of vanilla and dark chocolate flavors with a smooth coffee bitterness at the finish, this drinkable stout hits all of our sensory pleasure points
Can't Decide - Get a Taster Tray 4oz pour for $2 each. (Excludes 8oz or 10oz pours). We also have rotating taps so there's always something new!