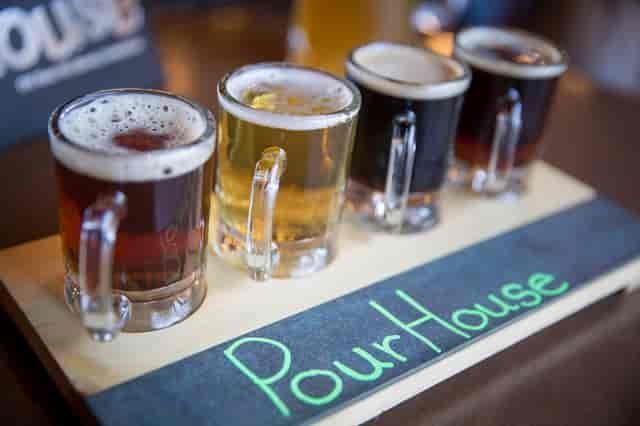 Drink Menu
Become a VIP
Receive updates on special events, new menu items, menu reviews, and more!
Beer
LAGER / PALE ALE / GOLDEN
PILSNER / KOLSCH / HEFEWEIZEN
AMBER / RED / ESB
Crow Hop Rado's Red, ABV 5.9%, IBU 30, Loveland CO
$5.50
Upfront notes of dark caramel with a slightly astringent quality build into bold roasted toffee with nutty undertones. It finishes with a light taste of toasted grain, which lends a characteristic dryness. The English hop varietals come smoothly in the finish without much hop bitterness
Denver Beer Company Pretzel Assassin, ABV-5%, Denver CO
$5
This classic Vienna Lager is crisp and easy drinking. Munich and caramel malts are used to create a malty flavor with a touch of breadiness and a light sweetness. German noble hops round out the flavor profile of this clean, authentic amber lager. No pretzels were harmed in the making of this beer, but we can't vouch for pretzel safety while you imbibe!
BROWN / SCOTTISH / DARK LAGER
SOUR
Duchesse De Bourgogne 8oz, ABV 6.2%, Belgium
$8
Duchesse de Bourgogne is the traditional top fermented reddish-brown ale from the West-Flanders region of Belgium. This refined ale also known as "The Burgundies of Belgium" is a blend of 8 and 18 months old ales following careful maturation in oak casks. 100% natural and unpasteurized
Great Divide Strawberry Rhubarb 12oz, ABV-6.2%, IBU 5, Denver CO
$6.50
This beautiful partnership creates a beer that glows ruby in the glass, bursts with strawberry aroma, and bites with every sip. Bright and effervescent, this sour is a fun and refreshing, lip-puckering treat perfect for every occasion, any time of the year
STOUT / PORTER
Horse and Dragon Sad Panda, ABV-6.8%, Fort Collins CO
$6
Aromas of vanilla and chocolate are prominent yet balanced with the malt sweetness and caramel aromas expected in stouts. Your first sip introduces the complex combination of flavors you might expect in your favorite coffee – the balanced sweetness of vanilla and dark chocolate flavors with a smooth coffee bitterness at the finish, this drinkable stout hits all of our sensory pleasure points
Can't Decide - Get a Taster Tray 4oz pour for $2 each. (Excludes 8oz or 10oz pours). We also have rotating taps so there's always something new!